Stunning Kitchen Remodeling Services
Get the Dream Space You've Always Wanted
If you ask the average homeowner which area of their home they would like to see redone, the majority will answer either the kitchen or the bathroom. Why? We spend a lot of our lives in these two spaces. In the kitchen, we cook, hang out with friends and family, and entertain. If it is cramped or poorly laid-out, the space can be nearly unusable.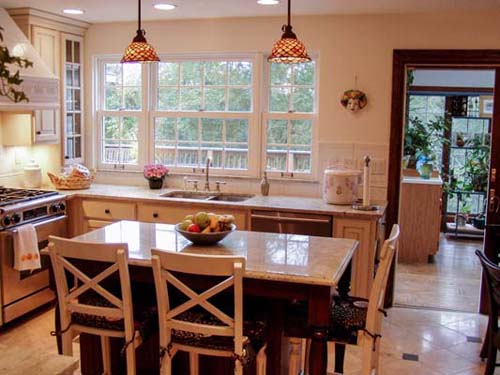 When you're trying to cook, you might be limited on space, which means that it's difficult to do prep work. Or if it's small, you might be tripping over other people in the kitchen. Don't let a small kitchen limit your enjoyment; invest in kitchen remodeling services from Studio One Kitchen & Bath Specialists LLC.
See Your Design Options in Our Showroom
Our showroom proudly exhibits samples of Cambria, Caesarstone, Silestone, Karndean and various tile manufacturers. We offer stock, semi-custom and custom cabinets. Other customizing options for your new kitchen include pot fillers; appliance lifts; marble, quartz or stainless steel countertops; and prep sinks – to name a few.
Understanding Your Kitchen Remodeling Needs
Before we begin any work, our team of experienced design/build contractors will sit down with you to understand your requirements. We know that there's no one-size-fits-all when it comes to kitchen renovation services. We'll set up a design consultation, ask you questions about what you envision and then come up with a plan that works best for your needs and your financial situation.
When the day for the build comes, our team will arrive on time and answer any questions that you have before we begin. Our goal is always to limit disruption to your family as much as possible. Throughout the remodel, there will be a point of contact for you if have any concerns.
Once we're done, we'll walk you through everything that we've done, ensure that you know how everything works and answer any additional questions that you may have.
Let's Talk About Your Project
When you work with Studio One, you can be assured that we'll guide you through every step of the process, including selecting materials, deciding on a timeline and working within your budget. Let's talk about your project! Call us today at (412) 422-8200 or fill out our online form.