Bathroom Remodeling Experts
Go From Cramped to Luxurious With Our Design/Build Services
For many people, the bathroom is a place to relax after a hard day or freshen up before going out on the town. Yet if your reaction to this space is pure dread because you feel like your current bathroom is too small or simply outdated, then the time for a bathroom remodeling project might be here. As one of the most used areas of your home, it's worth the investment to improve this space and make it as beautiful and functional as possible.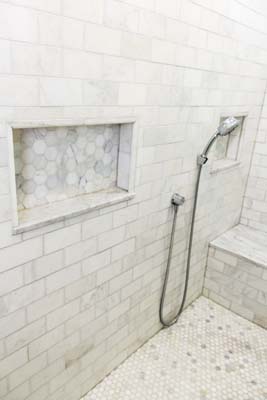 At Studio One Kitchen & Bath Specialists LLC, our team of professionals are experts in their respective fields. We can take your bathroom remodeling project from conception to completion with the least amount of hassle for you – that the beauty of the design/build process! We only use top-quality products from trusted brands. If you hire us for your remodel, we're confident you'll be 100% satisfied with the outcome.
Is It Time to Remodel Your Bathroom?
Many of us do not like our bathroom space, yet often homeowners are reluctant to invest in a full-blown remodeling project. How do you know that it's really time to invest in some updates? Here are some telltale signs that you should start budgeting for this project.
Nearly everything is wearing out. From the sink faucet to the toilet and even sections of your tile, it seems like every time that you walk into the bathroom, you find something else that needs repair.
There's not enough space for storage. If you only have one or two locations for storage in your bathroom – and you're sharing it with others – it might be time to invest in new cabinetry and storage options.
It looks old and dated. If you purchased an older home, it might include old wainscoting or paneling and vintage fixtures. These selections might not match your tastes or current décor.
Once a design is settled on, the fun begins. We assist with selections of flooring, shower and/or bathtubs, fixtures, tile, commodes, bidets, heated floors, towel warmers and a myriad of other options.
Get Started Today
Don't get frustrated every time that you walk into your bathroom. Convert it into the space that you've always wanted! Studio One Kitchen & Bath Specialists LLC can help. Call us today at (412) 422-8200 or fill out our online form.